Vista Quest Pocket featured on snowmaN Gaming
---
This cool dude featured Vista Quest Pocket on his Free Game Friday segment today. I love hearing about people enjoying the games we make. snowmaN actually has the 2nd best time in Vista Quest Pocket's race mode hall of fame. Give this guy a like, favorite and subscribe if you want to see more of his stuff.
Special thanks to RedBlast for the tip
Vista Quest version 4.0 Release!
---
Vista Quest was originally released in 2008. And only now on this day of January the 24th, 2016 does it finally have a pause feature! It is a glorious day for this game's like, two fans.
On top of that, we've also got a kick'n new OST in OGG format, put together by SypherAP. Full list of changes as follows:
Version 4.0 - January 24, 2016

New OST in OGG format by SypherAP, resulting in much improved sound quality.
Nullified potential for sound-related crashes on Windows 8 OS.
Fixed potential lag spikes related to gamepad engine.
Support for custom keyboard controls added.
XInput support added.
Controls, volume and screen size settings now save.
You can now skip the opening logo with 'S' or 'Q'.
Reduced Gorah's HP from 6 to 3.
Reduced Rutsubo's HP from 8 to 4.
Reduced the Darkness's HP from 8 to 6.
You can now pause (default key Q). You can edit your controls from the pause menu.
Forum Outage
---
Since Saturday, the forum has been experiencing technical difficulties. Because they pose a potential security risk, I've opted to shut down the forum for the time being. Once this problem can be solved, the forum will be back up and running in full swing.

Edit: The forum is now back up. Please resume your regular posting habits.
Introducing Suits Factory 0.1
---
After another successful 24 hour make-a-thon, we managed to raise $280.15, destroying our goal of $200 for the Children's Hospital Foundation of Manitoba. During the event, I made a cute little level editor for making your own Vista Quest levels. You can download it here.
There's still a lot I can do to make it better (It's hardly functioning right now) and I do plan to roll out some patches but I'm going to keep that on the backburner for now. Still much to be done before I can focus on yet another full game, so this will have to do for now.
As well, a special thanks goes out to everyone who made art during the stream! You guys are the real MVPs!
Histoire de Lune Official Demo is Out!
---
You can play it by clicking on this link right here!
While this is just a demo, the full game is almost complete. It's been almost a year since I started the project during the 2014 24 hour make-a-thon and am looking to wrap up in the next couple of months. Hopefully it will be worth the wait! You can let us know what you think on our forum!
Stay tuned for information on Steam Greenlight!
Syx @ Ai-Kon 2015
---

The booth.
Over last weekend from July 17-19, I was at Ai-Kon 2015 showing off some of S&S's games! All in all it went pretty well. People laughed, people cried, someone even DIED... maybe. On Saturday we had Ice Demon playing and people competed for the highest score. While nobody came close to last year's record of 121, held by Dennis Fehr, there were still some mighty strong competitors this year:
1st: Travis Gauthier - 36 kills
2nd: Jordan Stevens - 23 kills
3rd: Patrick Vergil - 20 kills
4th: Shawn Arksey - 15 kills
5th: Mitchell Dushnisky - 13 kills
6th: Samara Brazer - 12 kills
I sincerely thank everyone who stopped by our booth to try our games and leave their feedback. Thank you, friends!
See you in 2017!
Featured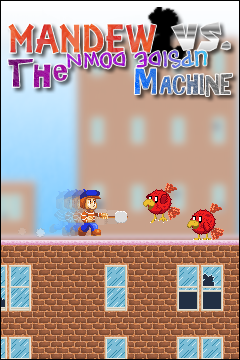 Syaxamaphone is the champion with 505,693.


Mandew is the fastest with 0:37:25.12.

Bob Hood is the champion with 72.