Throneless Demo
---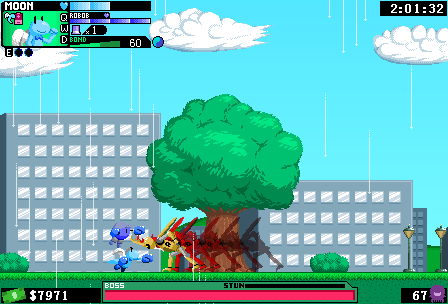 Hello! After several years of slow work, I'm happy to announce that the demo version of Throneless is finally here!
Feel free to post any comments on it on the Suits & Sandals forum or to my twitter, @BobMHood. I hope you enjoy a taste of this fast paced action experience!
Khimera Version 1.5 is out!
---
Version 1.5 of Khimera: Destroy all Monster Girls is out today. Its mostly (entirely) bug fixes and improvements. If you've got it enabled, steam will automatically install it for you. What a time to be alive!
In other news, Khimera recently got recognition on Mario Fan Games Galaxy as Game of the Month for the month of April, 2016. Thanks, guys!
Version 1.5 - July 14, 2016

The moving platforms on the pirate captain's final fight now despawn when she is defeated.
Asked Chelshia to stop flying away after the pirate captain is defeated. Hopefully she listens!
Made some false walls in Mt Afrokupa and the Oil Rig more noticable.
Ice and snow blocks in Mt Afrokupa fall slower so you don't accidentally punch a whole column with one punch.
If a health upgrade misses (couldn't replicate it so I dunno), it will just teleport to Chelshia, avoiding the soft-lock.
Khimera version 1.4 now live!
---
As per usual, if you've got the Steam version of Khimera: Destroy all Monster Girls, it should update automatically. I hope you enjoy the new BERSERK RACE mode that's coming with this update.
Version 1.4

Added BERSERK RACE, a new type of race mode unlocked once you unlock the berserk mode costume.
Added a new achievement associated with berserk race.
Race mode timer now stops when game is paused.
Fixed broken pit in the Oil Rig's Gourmet Gal screen.
Replaced Doctor's Assistant chest attack with a doctor's bag (cosmetic change).
Fixed spawned enemies not despawning after Mimi's death.
Fixed Cakeboy high score cutting off at 99,999; now cuts off at a much less obtainable 99,999,999 (please don't go for it).
Khimera 1.3
---
Another small patch is coming to Khimera: Destroy all Monster Girls today. It's mostly for fixing the A VERY SPECIAL FRIEND achievement, which based on community feedback, was not a good idea. Instead, a race mode achievement has been added that requires you to beat the game's race mode in under 33 minutes. Good luck!
Version 1.3 - May 23, 2016

changed the A VERY SPECIAL FRIEND achievement to the RHY-T ON TIME achievement.
fixed graphical error in credits.
Victory screen changes

now gives you a treasure percentage so you can see how close to A you got.
no longer gives you 'new record!' messages every time in race mode.
Rank is now awarded before time to make it clearer that time does not effect Rank.

Added a bunch of new level intro messages contributed by the community.
Khimera 1.2 is Out
---
Version 1.2 of Khimera: Destroy All Monster Girls has been released. Please enjoy this improved Khimera experience. If you have automatic updates active, the update should download automatically.
Increased hitbox size on earth breaker. Now lines up with smoke effect.
Increased vertical size of dash hitbox by 4 pixels on each side (1.5x).
regular and strong punch hitboxes now extend into Chelshia, so you can strike enemies overlapping you (as long as they are in the path of your swing).
You can now reflect the pirate explorer's ice picks to pick him off from a distance.
Pirate Explorer now climbs slower to allow more time between attacks.
Added helpful messages to aid first-time players (for example, when you collect your first fairy).
Updated Menu to take into account future content updates.
Added 'PRESS A' prompt to direct user to ASD/Arrows control scheme.
Added NONE option to dash type so you can play using dash (alt) only.
Fixed blockades spawning over the cake in CAKEBOY.
Fixed blockades spawning too close together or too close to the spawn.
Khimera 1.1 Update
---
If you've got it on steam, it should update automatically for you! If not, then what are you waiting for?
This isn't EVERYTHING that I'm aware of in need of fixing, but it's a start. There will probably be another patch within the next week or so.
Version 1.1 - May 12, 2016

Minor dialogue edits.
Minor level changes.
Chelshia now loses all momentumn when not holding a direction in midair (as apposed to half).
Saucy Shot and Demon Fire now do extra damage and knockback in berserk mode.
Added music to the title screen! It's pretty groovy!
Fixed pogo crashing when used on non-enemy instances.
Beetle no longer juts out of the end of platforms when turning around, making it safer to approach them.
You can now skip the opening and ending cutscenes with the pause button (default Q).
Featured